Our Products
WIRE STRAIGHTENING AND CUTTING MACHINE'S DESCRIPTION: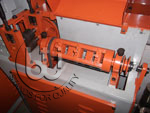 High Speed Spinner
BTI Mini Wire Straightening and Cutting Machine M-04 is a compact designed machine to serve the need of thin wire straightening and cutting 1.5 mm to 4mm mild steel, Stainless steel, Copper, Brass and Aluminium wire. BTI M-04 machine is compact but matches quality & performance with international demands that's why it is appreciated machine in the wire industry.
BTI M-04 is used to straighten & cut wires to make cut length rods out of coils. This machine is used wherever wire is further processed in form of rods and where accurate straightening of coiled wire with clean cut required, precision and high outputs are of importance.
WIRE STRAIGHTENING AND CUTTING MACHINE'S FULL SPECIFICATIONS:
MODEL
BTI M-04
In Thickness of Wire mm
1.5 to 4mm
In Length of Wire to be cut automatically mm
28 to 1000 mm
Length can be increased as per requirement.
Feeding Capacity per Min.
90' feet
Power of Motor H.P
2 HP
Required R.P.M
1440
Approx Weight in Kg. Net / Gross
300 /425
Floor Space required
3' X 8' Feet

WIRE STRAIGHTENING AND CUTTING MACHINE'S FEATURES:

Fast Feeding
High speed rotating spinner for getting exact straight wire
Compact Design
Beautiful appearance, low noise
Low Maintenance with High Productivity
Cutting tools is a simple construction, easy to adjust and change
Specially designed half round straightening dies to help Smooth wire straightening
Quickly and easily adjustable dies in spinner
Consumes less Power

WIRE STRAIGHTENING AND CUTTING MACHINE'S APPLICATIONS:

Welding
Electrodes



Fan Covers




Umbrellas




Wire fence




Spring Steel Wire




Kitchen wares