Our Products
HEAVY DUTY WIRE CUTTING AND STRAIGHTENING MACHINE DESCRIPTION: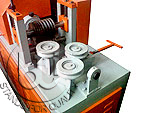 Pre-straightener rollers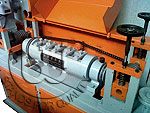 Heavy duty spinners
BTI Heavy Duty Wire Cutting and Straightening Machines BTI M-016, M-018 Specially designed for heavy wire industry applications. Suitable for straightening 8 mm to 18 mm mild steel, Stainless steel, Copper, Brass, TMT & Ribbed wire.
This machine is provided with 1 set of 3 pcs Pre-straightener rollers in front of first feeder. It helps to reduce sharp bend of wire coil to facilitate straightening quality & smooth feeding.
Some applications includes Manufacturing of Fasteners, Steel furniture, "U" bolts, Bright Bars , Auto parts, Ribbed / TMT Wires.
HEAVY DUTY WIRE CUTTING AND STRAIGHTENING FULL SPECIFICATIONS:
MODEL
BTI M-016
BTI M-018
In Thickness of Wire mm
8 to 16mm
10 to 18mm
In Length of Wire to be cut
automatically mm
75 to 1000 mm
Length can be increased as per requirement.
80 to 1000 mm
Length can be increased as per requirement.
Feeding Capacity per Min.
80' feet
80' feet
Power of Motor H.P
15+2HP
20+2 HP
Required R.P.M
1440
1440
Approx Weight in Kg. Net / Gross
1800 /2050
2000 /2250
Floor Space required
6' x 22'Feet
6' x 25'Feet
HEAVY DUTY WIRE CUTTING AND STRAIGHTENING FEATURESS:

Fast Feeding & Straightening speed can be 18m per min
Two & Four sets of feed rollers for smooth feeding
One set of 3pcs Pre-straightener rollers
High speed rotating spinner for getting exact straight wire
Heavy Duty Machines
Built on rigid Steel Fabricated Frame
Low Maintenance with High Productivity
Cutting tools is a simple construction, easy to adjust and change
Quickly and easily adjustable dies in spinner
HEAVY DUTY WIRE CUTTING AND STRAIGHTENING APPLICATIONS:




Threaded Bars




"U" Bolts




"J" Hooks




Fasteners




Bright Bars




Ribbed / TMT Wires